Certification:
CCC, CE, FCC, RoHS
With Light Source:
With Light Source
LED Chips Brand:
Bridgelux
Solar Panel:
18V60W (American Sunpower)
Battery Type:
24ah LiFePO4 Lithium Battery
Viewing Angle:
120 Degree
Discharge Time:
15-30 Hours
Space Between Light:
18-20m
Transport Package:
Nuetral&Carton Packaging
Specification:
ROHS CE IP68 ISO9001
Professional China Factory All in One Integrated Solar LED Street Light with cheap price
BRIEFÂ Â Â Â Â Â Â Â Â Â Â Â Â Â Â Â Â Â Â Â Â Â Â Â Â Â Â Â Â Â Â Â Â Â Â Â Â Â Â Â Â Â Â Â Â Â Â Â Â Â Â Â Â Â Â Â Â Â Â Â Â Â Â Â Â Â Â Â Â Â Â Â Â Â Â Â Â Â Â Â Â Â Â Â Â Â Â Â Â Â Â Â Â Â Â Â Â Â Â Â Â Â Â Â Â Â Â Â Â 
Our integrated All-in-one 100% solar energy powered Solar Street LED Lamp which integrates the green-energy parts solar panel, Bridgelux/ Epistar LED chips, LiFePO4 (lithium iron phosphate) battery, intelligent control system, Panasonic sensor, etc.Into one aluminum alloy housing. Long service life, high-luminance, energy saving and maintenance free.Very easy to install and no cable needed.This lamp is brighter compared with normal sodium light, 1W led chip brightness as 5W of normal sodium light, and at the same time, it's convenient for transportation and high safety.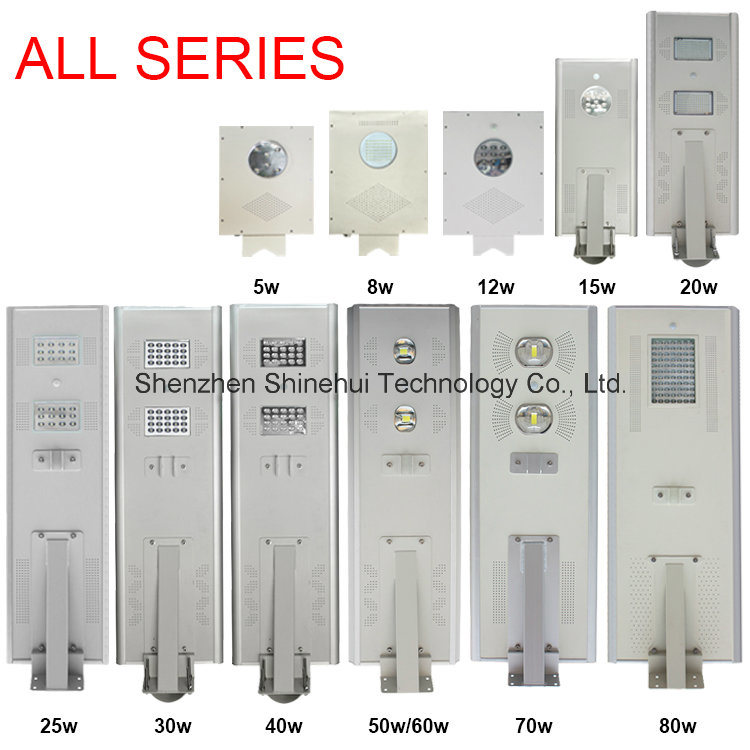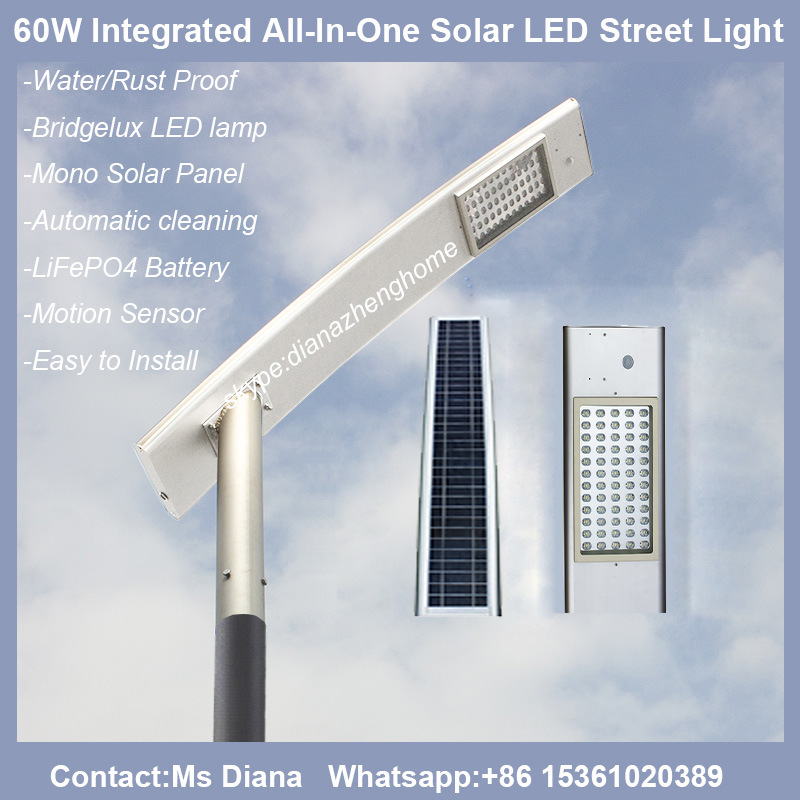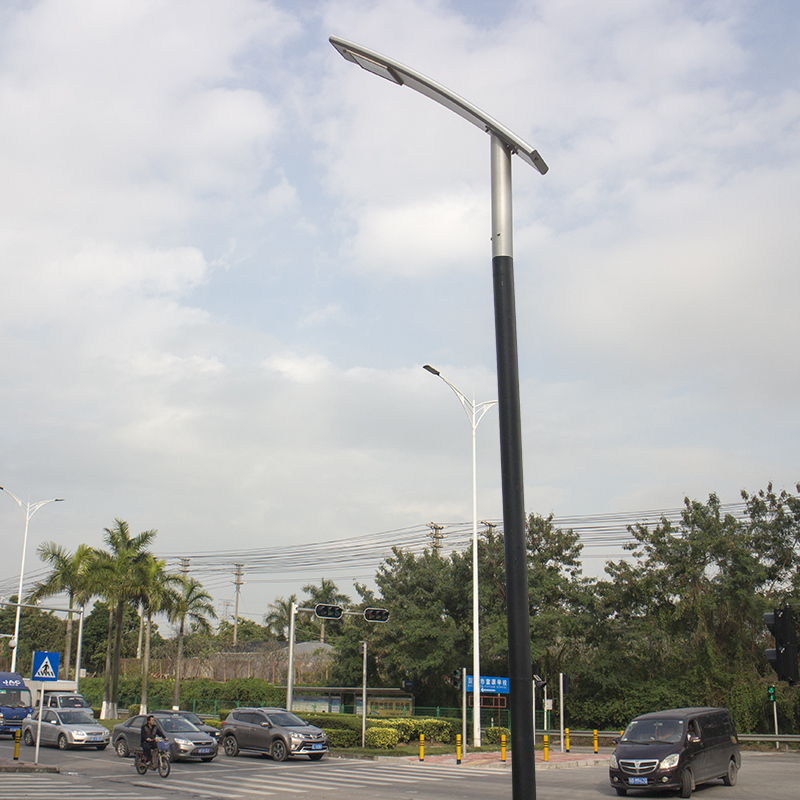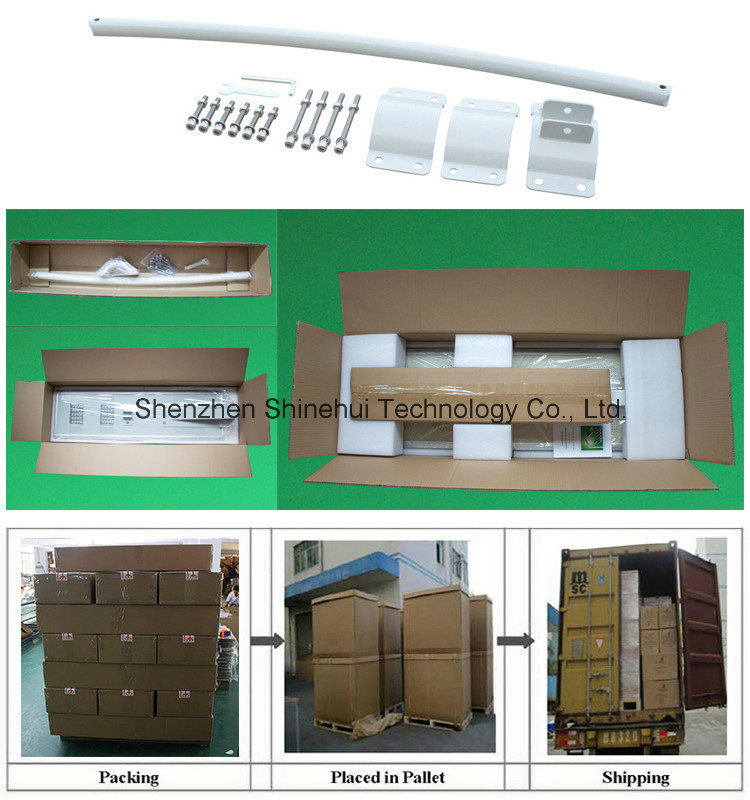 UNIQUE MODEL FOR SOLAR STREET LIGHTÂ Â Â Â Â Â Â Â Â Â Â Â Â Â Â Â Â Â Â Â Â Â Â Â Â Â Â Â Â Â Â Â Â Â Â Â Â Â Â Â Â Â Â Â Â Â Â Â Â Â Â Â Â Â Â Â Â Â Â Â Â Â 
We have already start to produced solar street light with Remote Control which good for management.
 
I.Remote Controller
Mobile APP connect with lights build-in 
controller,exchange date mutually.Control Turn 
On/Off for lights and setup program .
II.Network Outdoor Remote Monitoring/Anti-Theft System
360 degree infrared camera,remote viewing by 
iPhone /Â Andriod device /Â Laptop/ Desktop.
III.Connect Grid System
Connect to 110V to 240V electricity when solar panel 
can not charge,send power to LED directly,extend 
battery life.
Specification of 60w all in one integrated solar street light                                         
            
1.Lamps material of main: aluminium alloy
2.Solar panel Max power: 18V80W (monocrystalline silicon/ Sunpower solar panel)
3.Battery Type: lithium iron phosphate battery(12.8V33AH)
4.Discharge time: 8-12 hours(optional)
5.Mounting height: 7-8m
6.Backup time of battery: 3Â days
7.warranty period: 2Â years
Size & Weight                                                                                                                     

 
Product size:1310*215*43mm
Package size:1440*385*215mm
Net weight:17 kg
Gross weight:21 kg
1pcs/carton
20 Feet Container:280pcs
40 Feet Container:600pcs
                                                                                           
COMPANY PROFILEÂ Â Â Â Â Â Â Â Â Â Â Â Â Â Â Â Â Â Â Â Â Â Â Â Â Â Â Â Â Â Â Â Â Â Â Â Â Â Â Â Â Â Â Â Â Â Â Â Â Â Â Â Â Â Â Â Â Â Â Â Â Â Â Â Â Â Â Â Â Â Â Â Â Â Â Â Â Â Â Â Â Â Â Â Â Â Â Â Â Â Â Â Â Â Â Â Â Â Â Â Â Â Â Â Â Â Â 
 
Shenzhen Shinehui Technology Co.,Ltd was established in 2005.Our products have been widely used in the USA,Japan,Europe,Southeast Asia,
the Middle East,Africa and other countries and rggions.
Extra quality is our way to show sincerest respect to our customers.We have passed the "ISO9001:2008 Quality Management System"
and we have got FCC,CE,RoHS and other certifications. 
With these years' research, development and manufacture, we have accumulated our special experience and methods to control the quality through the whole process.
We have founded firm relationships with material suppliers and even invested in some supply companies to control quality directly.
The customized service we provide has helped our worldwide customers solve of problems. You can find more information of us at: http://www.shinehui.com/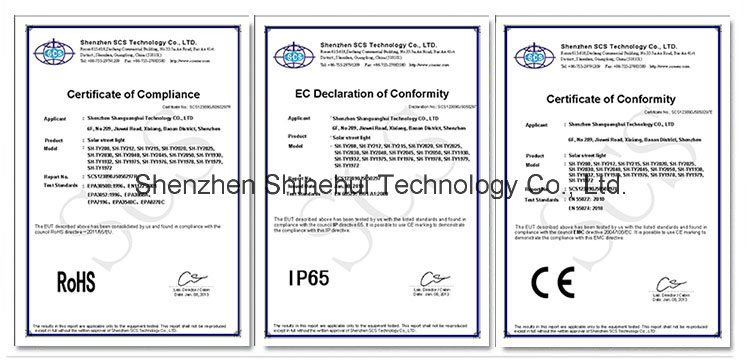 Our service                                                                                                                        
 

     
1. Reply your enquiry in 24 working hours.
2. Well-trained and passional sales &Â after- sale services,we can do everything to meet your needs.
3. Customized design is available.
4. Shipping port: Shenzhen,China mainland.
5. SAMPLES are prepared.Discouts are offered based on order quantities.
6. MOQ: 1pcs.
 
Why choose us - Shinehui ?                                                                                           
 
1. About 10 years specializing in solar lighting system.
2. Complete supplying system with full range of solar lights,led solar street/garden light,solar lantern,solar power system for home applicances,solar inverter,etc.
3. Strict process and quality control.
4. Good raw materials used in production.
5. Strong design and production capability.
CONTACT USÂ Â Â Â Â Â Â Â Â Â Â Â Â Â Â Â Â Â Â Â Â Â Â Â Â Â Â Â Â Â Â Â Â Â Â Â Â Â Â Â Â Â Â Â Â Â Â Â Â Â Â Â Â Â Â Â Â Â Â Â Â Â Â Â Â Â Â Â Â Â Â Â Â Â Â Â Â Â Â Â Â Â Â Â Â 
                               
Please Contact Us for more information:
Contact Person: Andrea Chen
Shenzhen Shinehui Solar Technology Co., Ltd  
Web:  www.shinehui.com 
 Fax:+86-0755-23274626 
Mobile:+8613684990216Â 
Add: Kaida Industrial Park, 564# Zhoushi Road, Xixiang Town, Bao'an District, Shenzhen, China
 

 
YiMing Lighting Technology could provide very high quality Aluminum LED Bulb Light at very competitive prices. Want more about Aluminum LED Bulb Light or LED replacement lights, please contact us.
Aluminum LED Bulb Light
Aluminum LED Bulb Light, G60 Led Bulbs, Led Lights, 8W Led Bulb, 10W Led Light
Ningbo YiMing Lighting Technology Co., Ltd. , http://www.yimingtech.com